I remember the recession in 2008 like it was yesterday. The feeling in the office I worked at, the thick sense of dread, as one by one, employees got called into the boardroom for The Talk.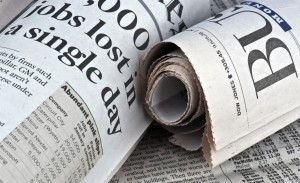 You could feel the anxiety hang in the air as the news channels perpetuated the same bad news, flashing over and over on the ticker.
Everyone was quiet and apprehensive, and yet I sat at my desk, vibrating, waiting, like a coiled spring, for my turn to be fired so I could rocket out of there and get started on my plan. You see, for months prior, I had been tirelessly investing my free time in doing market research, creating a business plan, and starting up a side gig: my 'passion project' that would become my first business. Getting fired meant that I could now qualify for a government funded mentorship program for support with my business start up. Whether it was my intuition, or just great timing, I was prepared for that change and so thrilled to embrace it.
Now, years later, here I am watching the effects of the oil layoffs ripple out into the Alberta economy; the news perpetuating the same story, heads rolling, and the downtown commercial area covered in 'For Lease' signs like a scene out of an apocalyptic movie. And yet here I sit, working away and counting my blessings. I'm not a psychic or a seer of the future, I am just a firm believer in the side gig.

Before our incorporation Keller Strategic was actually started 3 years prior, as a freelancing side gig, when we first arrived in Calgary working full time jobs. I had ambitions to have a flexible and autonomous life/work balance so we set to work slowly creating what our company would become. It took many hours after work and on the weekends, grinding away. The more stressed Shane would get at work, the harder I would push to get our own thing up and running. The expression, "be careful what you wish for" has always applied throughout my life. Anything I set my mind on, shows up, without fail, so I now tend to be prepared for it.
If this is not the case for you, don't wait until you are blindsided by circumstances outside of your control. Take action now to prepare yourself for change. Here is some advice that may help you and your business in Riding Out a Recession:
Shrink your Overhead
When economic pressures start bearing down upon you, its time to start swinging ye olde battle axe. Attack your biggest costs first.
If you are in contracts such as with a lease space, consider opening up your doors. You may be able to collaborate or partner with a complimentary business to sublet or share costs and your client pool. Think of other creative ways you could make money with your space. Could your warehouse also house an art exhibit or liquidation sale? Perhaps your trendy office would make a great photo studio for rent after hours?
Consider if a store front or office is even necessary or can you make a shift to online only? Assess and cut all areas of waste.
Downsize! Get rid of what assets you can sooner, rather than later, when everyone else is trying to liquidate and the market is flooded and fewer buyers available.
Just be cautious when it comes to cutting people. Good people are one of the hardest resources to find, so don't burn any bridges here. Think of how you could reassign or repurpose roles to keep your people employed or at the very least maintain the relationship. People might be ok with less pay or hours if it means they have a flexible schedule or can work from home, or perhaps be compensated in some other way like a discount on goods or services.
Use your creativity.
Make Friends with your Enemies
For a lemons to lemonade strategy, use your battle axe to cut yourself a slice of humble pie. In lean times, you may even want to look to your competitors for help. Remember, they may be feeling the effects of a recession just as much as you. Pooling your resources can help you get better pricing on supplies, share the cost of staff, share your expertise or even share your clients if it means staying in business. A long rivalry as competitors could result in a win-win partnership or successful buy-out with the right attitudes. Never say never.
Renegotiate
If your ship is taking on water, stop bailing and take a moment to find the leaks and set to work repairing them. The original conditions of your business have changed, so identify the areas that of your business that need to change along with the conditions. Do you need to renegotiate contracts with clients? Suppliers? Service providers? Etc? We often have the tendency to wait until things are broken before we fix them, but prevention is the key to success. Keep a watchful eye out for areas of your business that need to adapt to changes in the marketplace so you're not waiting until it becomes a problem.
Expand your Offering
Retain the clients you already have by doing more for them than anyone else. By offering more, you can also increase your revenue by marketing more products or services to your existing client base. Keep those precious clients happy by truly knowing their needs and think of creative ways you can help serve them.
Invest in Marketing
During a downturn it becomes even more critical to get out there and find new customers. As the client pool shrinks, you need to be more competitive than ever in reaching your audience. In times of recession, you will need to up your game and go in with a strategic, niche approach vs. a blanket solution.
Make a Leap
Perhaps its time to start a new project or jump into another industry. The only thing that stays the same is that things will always be changing, so "be like water" and go with the flow. Make a move, take a risk, try something new, just keep moving forward.
Start a Side Gig
Just can't stress this one enough! Extra cash flow can help you do a lot of things; ride out a recession, save for a rainy day, invest in other opportunities, or help you get by in a tight spot. Its like having a life raft ready to deploy in case of emergency. Its also easier to bounce back with a side hustle should you lose your footing with your full-time gig. Suffering a blow from a job loss or business failure can be fatal for some, but you can minimize or even avoid the damage with a side gig.
You can also supplement your income while on EI or going to school. You may earn 20% of your weekly benefits without changing the amount of EI benefits you receive. A side gig is low risk and high reward, so get started today.
Don't over think it. This person probably isn't a genius with a perfect business plan, but they still made around $15,000 last year selling pet teepees. Yes, Teepees. For pets. I love it!
You don't have to reinvent the wheel, just offer whatever skills you currently have.
Remember, you don't need to be THE expert, you just have to be better at something than somebody else who is in the market for that something.
A great place to start is a free classified website like Craigslist or Kijiji.
Think before you Educate
Many people go back to school during times of unemployment to gain new skills and a competitive edge. Before you invest in education, really do your research. Talk to people in the field you are looking into – how did their education effect their careers, what courses were useful? Unnecessary? What would they do differently? Most schools have a list of alumni available so start there. Make use of networks like LinkedIn to locate and reach out to people.
Try before you Buy
If you are making a shift into a new industry, and require investing in your education to do it, test out the work and make sure it is something you really enjoy and want to do. Don't blindly jump in and find out later its not for you, after the money and time is already spent. Take an internship role to test the waters before diving in. A short term investment of time upfront can potentially save you years of suffering.
Take Advantage
There are multiple resources available for people that are interested in entrepreneurship or for unemployed persons looking to upgrade their skills. Your province wants to keep you here, to be working and contributing. Take advantage of government programs, grants, mentorship or other resources available to you. That is what they are there for and the reason we pay taxes, so don't be shy about it. Do your research, ask questions and be proactive. Often these types of services take a bit of digging to find, but are so worth the effort, so take the initiative and apply.
If you are feeling the crunch and would like some help navigating the waters of your particular business climate, please reach out to us for a consult. Advice is always Free and we genuinely care. kellerstrategic.com (403) 483 9446.