Infographics have become so ubiquitous in today's online media that they are often the only content shown and shared by vast numbers of internet users around the world.  Just think back to the last time you were reading a tech blog, scrolling through Facebook, or pinning to your boards on Pinterest  – you likely have seen an infographic.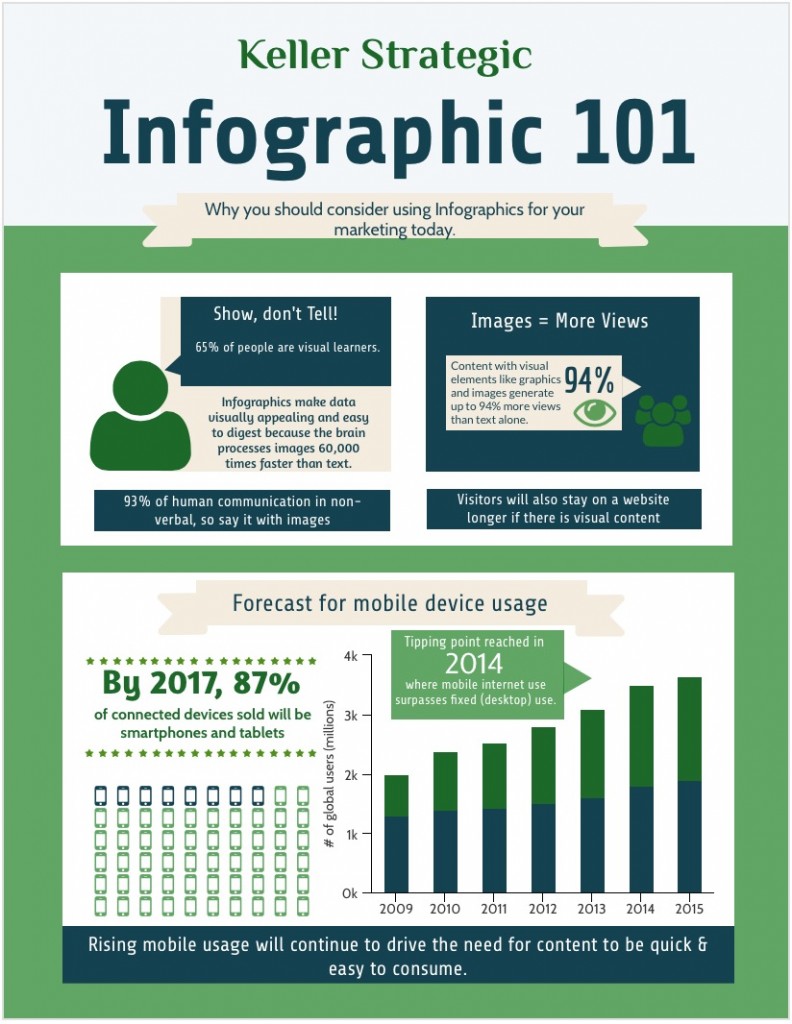 What is an infographic?
Defined, an infographic is a graphic visual representation of information, data, or knowledge intended to present complex information quickly and clearly. They can improve cognition by utilizing graphics to enhance the human visual system's ability to see patterns and trends.
Why use them?
Content is the most valuable marketing tool you can use for your business. By using infographics, you can "Spice up your contect and get your message across in an accessible and succinct way" that is easy to for the reader to digest.
Resources?
No in-house graphic designer? No Problem! There are several FREE infographic tools online you can use to DIY. My Top 6 Picks:
1. Piktochart: Pro packages start @ $14/ mo
With a PRO subscription, you can share your infographic by downloading in PNG, JPG and PDF format, emailing it, sharing the link or embeding it in your website or blog using provided HTML codes. You can also share to social accounts such as Facebook, Twitter, Pinterest, Evernote and Slideshare for presentations.  If just reading this made your brain fry, you may want to consider leaving it to a pro.
2. Venngage: Go Pro for $19/mo.
Venngage gets top 2 because of its ease of use. Choose from several ready-made templates themes, and hundreds of charts and icons as well as uploading your own images and backgrounds, to customize a theme to suit your brand.  However, for easy file sharing, expect to pay the 'Pro' subscription.
3. Easel.ly
Easel.ly offers thousands of free ready-made templates which are easily customizable. You get access to a library of things like arrows, shapes and connector lines, and you can customize the text with range of fonts, colours, text styles and sizes. The tool also lets you upload your graphics and position them with one touch.
4. Google Developers
Google chart tools are powerful, simple to use, and free. You can choose from a variety of charts and configure an extensive set of options to perfectly match the look and feel of your website. By connecting your data in real time, Google Developers is the perfect infographic generator for your website.
5. Infogr.am
Inforgram is for creating interactive charts in an Excel Spreadheet-like editing environment. You can download, share and embed the charts you create. They have 30 styles of chart types available for free, or you can upgrade to a Pro account for $18 / mo.
6. Visual.ly
Visual.ly is a community platform for data visualization and infographics set up in 2011. It allows you both to create infographics and get them shared on social media. The website is also able to match those commissioning infographics – including brands, companies and agencies – with its community over more than 35,000 designers.
*Contact us today if you need help with your content marketing for your business. Keller Strategic is based in Calgary and we serve clients from Calgary to the Caribbean!